Puppet Shows
|
Ages 4+
|
center
{"performances":{"40854":{"Id":40854,"Description":"Brother Coyote, Sister Fox","PerfDate":{"date":"2023-09-06 00:00:00.000000","timezone_type":1,"timezone":"-04:00"},"PerfTS":1694008800,"DateTimeString":"September 6, 10:00 AM","InThePast":true,"BeforeToday":true,"ProductionSeason":40852,"generalPrice":null,"memberPrice":null,"generalZonePrices":null,"memberZonePrices":null,"seats":278},"40855":{"Id":40855,"Description":"Brother Coyote, Sister Fox","PerfDate":{"date":"2023-09-07 00:00:00.000000","timezone_type":1,"timezone":"-04:00"},"PerfTS":1694095200,"DateTimeString":"September 7, 10:00 AM","InThePast":true,"BeforeToday":true,"ProductionSeason":40852,"generalPrice":null,"memberPrice":null,"generalZonePrices":null,"memberZonePrices":null,"seats":299},"40856":{"Id":40856,"Description":"Brother Coyote, Sister Fox","PerfDate":{"date":"2023-09-08 00:00:00.000000","timezone_type":1,"timezone":"-04:00"},"PerfTS":1694181600,"DateTimeString":"September 8, 10:00 AM","InThePast":true,"BeforeToday":true,"ProductionSeason":40852,"generalPrice":null,"memberPrice":null,"generalZonePrices":null,"memberZonePrices":null,"seats":216},"40857":{"Id":40857,"Description":"Brother Coyote, Sister Fox","PerfDate":{"date":"2023-09-13 00:00:00.000000","timezone_type":1,"timezone":"-04:00"},"PerfTS":1694613600,"DateTimeString":"September 13, 10:00 AM","InThePast":true,"BeforeToday":true,"ProductionSeason":40852,"generalPrice":null,"memberPrice":null,"generalZonePrices":null,"memberZonePrices":null,"seats":264},"40858":{"Id":40858,"Description":"Brother Coyote, Sister Fox","PerfDate":{"date":"2023-09-14 00:00:00.000000","timezone_type":1,"timezone":"-04:00"},"PerfTS":1694700000,"DateTimeString":"September 14, 10:00 AM","InThePast":true,"BeforeToday":true,"ProductionSeason":40852,"generalPrice":null,"memberPrice":null,"generalZonePrices":null,"memberZonePrices":null,"seats":61},"40859":{"Id":40859,"Description":"Brother Coyote, Sister Fox","PerfDate":{"date":"2023-09-15 00:00:00.000000","timezone_type":1,"timezone":"-04:00"},"PerfTS":1694786400,"DateTimeString":"September 15, 10:00 AM","InThePast":true,"BeforeToday":true,"ProductionSeason":40852,"generalPrice":null,"memberPrice":null,"generalZonePrices":null,"memberZonePrices":null,"seats":219},"40860":{"Id":40860,"Description":"Brother Coyote, Sister Fox","PerfDate":{"date":"2023-09-20 00:00:00.000000","timezone_type":1,"timezone":"-04:00"},"PerfTS":1695218400,"DateTimeString":"September 20, 10:00 AM","InThePast":true,"BeforeToday":true,"ProductionSeason":40852,"generalPrice":null,"memberPrice":null,"generalZonePrices":null,"memberZonePrices":null,"seats":156},"40861":{"Id":40861,"Description":"Brother Coyote, Sister Fox","PerfDate":{"date":"2023-09-21 00:00:00.000000","timezone_type":1,"timezone":"-04:00"},"PerfTS":1695304800,"DateTimeString":"September 21, 10:00 AM","InThePast":true,"BeforeToday":true,"ProductionSeason":40852,"generalPrice":null,"memberPrice":null,"generalZonePrices":null,"memberZonePrices":null,"seats":153},"40862":{"Id":40862,"Description":"Brother Coyote, Sister Fox","PerfDate":{"date":"2023-09-22 00:00:00.000000","timezone_type":1,"timezone":"-04:00"},"PerfTS":1695391200,"DateTimeString":"September 22, 10:00 AM","InThePast":true,"BeforeToday":true,"ProductionSeason":40852,"generalPrice":null,"memberPrice":null,"generalZonePrices":null,"memberZonePrices":null,"seats":143},"40863":{"Id":40863,"Description":"Brother Coyote, Sister Fox","PerfDate":{"date":"2023-09-06 00:00:00.000000","timezone_type":1,"timezone":"-04:00"},"PerfTS":1694014200,"DateTimeString":"September 6, 11:30 AM","InThePast":true,"BeforeToday":true,"ProductionSeason":40852,"generalPrice":null,"memberPrice":null,"generalZonePrices":null,"memberZonePrices":null,"seats":136},"40864":{"Id":40864,"Description":"Brother Coyote, Sister Fox","PerfDate":{"date":"2023-09-07 00:00:00.000000","timezone_type":1,"timezone":"-04:00"},"PerfTS":1694100600,"DateTimeString":"September 7, 11:30 AM","InThePast":true,"BeforeToday":true,"ProductionSeason":40852,"generalPrice":null,"memberPrice":null,"generalZonePrices":null,"memberZonePrices":null,"seats":150},"40865":{"Id":40865,"Description":"Brother Coyote, Sister Fox","PerfDate":{"date":"2023-09-08 00:00:00.000000","timezone_type":1,"timezone":"-04:00"},"PerfTS":1694187000,"DateTimeString":"September 8, 11:30 AM","InThePast":true,"BeforeToday":true,"ProductionSeason":40852,"generalPrice":null,"memberPrice":null,"generalZonePrices":null,"memberZonePrices":null,"seats":127},"40866":{"Id":40866,"Description":"Brother Coyote, Sister Fox","PerfDate":{"date":"2023-09-13 00:00:00.000000","timezone_type":1,"timezone":"-04:00"},"PerfTS":1694619000,"DateTimeString":"September 13, 11:30 AM","InThePast":true,"BeforeToday":true,"ProductionSeason":40852,"generalPrice":null,"memberPrice":null,"generalZonePrices":null,"memberZonePrices":null,"seats":120},"40867":{"Id":40867,"Description":"Brother Coyote, Sister Fox","PerfDate":{"date":"2023-09-14 00:00:00.000000","timezone_type":1,"timezone":"-04:00"},"PerfTS":1694705400,"DateTimeString":"September 14, 11:30 AM","InThePast":true,"BeforeToday":true,"ProductionSeason":40852,"generalPrice":null,"memberPrice":null,"generalZonePrices":null,"memberZonePrices":null,"seats":116},"40868":{"Id":40868,"Description":"Brother Coyote, Sister Fox","PerfDate":{"date":"2023-09-15 00:00:00.000000","timezone_type":1,"timezone":"-04:00"},"PerfTS":1694791800,"DateTimeString":"September 15, 11:30 AM","InThePast":true,"BeforeToday":true,"ProductionSeason":40852,"generalPrice":null,"memberPrice":null,"generalZonePrices":null,"memberZonePrices":null,"seats":106},"40869":{"Id":40869,"Description":"Brother Coyote, Sister Fox","PerfDate":{"date":"2023-09-20 00:00:00.000000","timezone_type":1,"timezone":"-04:00"},"PerfTS":1695223800,"DateTimeString":"September 20, 11:30 AM","InThePast":true,"BeforeToday":true,"ProductionSeason":40852,"generalPrice":null,"memberPrice":null,"generalZonePrices":null,"memberZonePrices":null,"seats":158},"40870":{"Id":40870,"Description":"Brother Coyote, Sister Fox","PerfDate":{"date":"2023-09-21 00:00:00.000000","timezone_type":1,"timezone":"-04:00"},"PerfTS":1695310200,"DateTimeString":"September 21, 11:30 AM","InThePast":true,"BeforeToday":true,"ProductionSeason":40852,"generalPrice":null,"memberPrice":null,"generalZonePrices":null,"memberZonePrices":null,"seats":81},"40871":{"Id":40871,"Description":"Brother Coyote, Sister Fox","PerfDate":{"date":"2023-09-22 00:00:00.000000","timezone_type":1,"timezone":"-04:00"},"PerfTS":1695396600,"DateTimeString":"September 22, 11:30 AM","InThePast":true,"BeforeToday":true,"ProductionSeason":40852,"generalPrice":null,"memberPrice":null,"generalZonePrices":null,"memberZonePrices":null,"seats":175},"40872":{"Id":40872,"Description":"Brother Coyote, Sister Fox","PerfDate":{"date":"2023-09-09 00:00:00.000000","timezone_type":1,"timezone":"-04:00"},"PerfTS":1694271600,"DateTimeString":"September 9, 11:00 AM","InThePast":true,"BeforeToday":true,"ProductionSeason":40852,"generalPrice":null,"memberPrice":null,"generalZonePrices":null,"memberZonePrices":null,"seats":291},"40873":{"Id":40873,"Description":"Brother Coyote, Sister Fox","PerfDate":{"date":"2023-09-16 00:00:00.000000","timezone_type":1,"timezone":"-04:00"},"PerfTS":1694876400,"DateTimeString":"September 16, 11:00 AM","InThePast":true,"BeforeToday":true,"ProductionSeason":40852,"generalPrice":null,"memberPrice":null,"generalZonePrices":null,"memberZonePrices":null,"seats":254},"40874":{"Id":40874,"Description":"Brother Coyote, Sister Fox","PerfDate":{"date":"2023-09-23 00:00:00.000000","timezone_type":1,"timezone":"-04:00"},"PerfTS":1695481200,"DateTimeString":"September 23, 11:00 AM","InThePast":false,"BeforeToday":false,"ProductionSeason":40852,"generalPrice":22,"memberPrice":null,"generalZonePrices":{"31":22},"memberZonePrices":null,"seats":152},"40875":{"Id":40875,"Description":"Brother Coyote, Sister Fox","PerfDate":{"date":"2023-09-09 00:00:00.000000","timezone_type":1,"timezone":"-04:00"},"PerfTS":1694278800,"DateTimeString":"September 9, 1:00 PM","InThePast":true,"BeforeToday":true,"ProductionSeason":40852,"generalPrice":null,"memberPrice":null,"generalZonePrices":null,"memberZonePrices":null,"seats":289},"40876":{"Id":40876,"Description":"Brother Coyote, Sister Fox","PerfDate":{"date":"2023-09-10 00:00:00.000000","timezone_type":1,"timezone":"-04:00"},"PerfTS":1694365200,"DateTimeString":"September 10, 1:00 PM","InThePast":true,"BeforeToday":true,"ProductionSeason":40852,"generalPrice":null,"memberPrice":null,"generalZonePrices":null,"memberZonePrices":null,"seats":277},"40877":{"Id":40877,"Description":"Brother Coyote, Sister Fox","PerfDate":{"date":"2023-09-16 00:00:00.000000","timezone_type":1,"timezone":"-04:00"},"PerfTS":1694883600,"DateTimeString":"September 16, 1:00 PM","InThePast":true,"BeforeToday":true,"ProductionSeason":40852,"generalPrice":null,"memberPrice":null,"generalZonePrices":null,"memberZonePrices":null,"seats":262},"40878":{"Id":40878,"Description":"Brother Coyote, Sister Fox","PerfDate":{"date":"2023-09-17 00:00:00.000000","timezone_type":1,"timezone":"-04:00"},"PerfTS":1694970000,"DateTimeString":"September 17, 1:00 PM","InThePast":true,"BeforeToday":true,"ProductionSeason":40852,"generalPrice":null,"memberPrice":null,"generalZonePrices":null,"memberZonePrices":null,"seats":284},"40879":{"Id":40879,"Description":"Brother Coyote, Sister Fox","PerfDate":{"date":"2023-09-23 00:00:00.000000","timezone_type":1,"timezone":"-04:00"},"PerfTS":1695488400,"DateTimeString":"September 23, 1:00 PM","InThePast":false,"BeforeToday":false,"ProductionSeason":40852,"generalPrice":22,"memberPrice":null,"generalZonePrices":{"31":22},"memberZonePrices":null,"seats":304},"40880":{"Id":40880,"Description":"Brother Coyote, Sister Fox","PerfDate":{"date":"2023-09-24 00:00:00.000000","timezone_type":1,"timezone":"-04:00"},"PerfTS":1695574800,"DateTimeString":"September 24, 1:00 PM","InThePast":false,"BeforeToday":false,"ProductionSeason":40852,"generalPrice":22,"memberPrice":null,"generalZonePrices":{"31":22},"memberZonePrices":null,"seats":289},"40882":{"Id":40882,"Description":"Brother Coyote, Sister Fox","PerfDate":{"date":"2023-09-10 00:00:00.000000","timezone_type":1,"timezone":"-04:00"},"PerfTS":1694372400,"DateTimeString":"September 10, 3:00 PM","InThePast":true,"BeforeToday":true,"ProductionSeason":40852,"generalPrice":null,"memberPrice":null,"generalZonePrices":null,"memberZonePrices":null,"seats":286},"40884":{"Id":40884,"Description":"Brother Coyote, Sister Fox","PerfDate":{"date":"2023-09-17 00:00:00.000000","timezone_type":1,"timezone":"-04:00"},"PerfTS":1694977200,"DateTimeString":"September 17, 3:00 PM","InThePast":true,"BeforeToday":true,"ProductionSeason":40852,"generalPrice":null,"memberPrice":null,"generalZonePrices":null,"memberZonePrices":null,"seats":289},"40886":{"Id":40886,"Description":"Brother Coyote, Sister Fox","PerfDate":{"date":"2023-09-24 00:00:00.000000","timezone_type":1,"timezone":"-04:00"},"PerfTS":1695582000,"DateTimeString":"September 24, 3:00 PM","InThePast":false,"BeforeToday":false,"ProductionSeason":40852,"generalPrice":22,"memberPrice":null,"generalZonePrices":{"31":22},"memberZonePrices":null,"seats":309}},"performanceDates":{"40854":1693972800,"40855":1694059200,"40856":1694145600,"40857":1694577600,"40858":1694664000,"40859":1694750400,"40860":1695182400,"40861":1695268800,"40862":1695355200,"40863":1693972800,"40864":1694059200,"40865":1694145600,"40866":1694577600,"40867":1694664000,"40868":1694750400,"40869":1695182400,"40870":1695268800,"40871":1695355200,"40872":1694232000,"40873":1694836800,"40874":1695441600,"40875":1694232000,"40876":1694318400,"40877":1694836800,"40878":1694923200,"40879":1695441600,"40880":1695528000,"40882":1694318400,"40884":1694923200,"40886":1695528000},"reducedPricePerfs":[],"sensoryFriendlyPerfs":[],"soldOutPerfs":null,"firstDate":1695481200,"urlOverride":""}
Join Us for a Fun Bilingual Mexican Folktale
 Presented by Thistle Theatre of Seattle, Washington
A delightful and hilarious adaptation of the beloved Mexican folktale. Brother Coyote conspires to eat Doña Conchita's plump chickens. But quick-witted Sister Fox stays one step ahead of him with her clever schemes to keep the chickens all to herself! 
Puppetry Style: Rod, Tabletop
Themes: Animals, World Folklore
Theater: Mainstage Theater
Meet the Cast!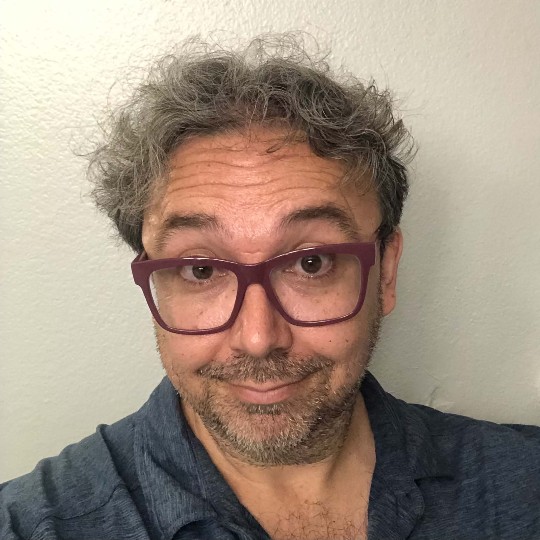 Gavin Cummins
Director | Puppeteer
is a puppeteer and artistic director of Thistle Theatre located in Seattle. Gavin began his puppetry career as a performer at Thistle Theatre with founder Jean Enticknap. Gavin co-founded the Fussy Cloud Puppet Slam and collaborated with Red Legg Dance Company, Book-It Repertory Theatre, Seattle Shakespeare Company, Seattle Solstice Parade, and others. He received an MA in Puppet Arts from the University of Connecticut. There he was the graduate assistant at the Ballard Institute and Museum of Puppetry, began the Salmagundi Puppet Cabaret, created family puppet shows, and performed his MA show at the Connecticut Repertory Theatre. Gavin worked for the Great Arizona Puppet Theatre. Responding to the pandemic he helped develop the Drive-In Puppet Show. Gavin next began collaborating with Jean Enticknap to bring Thistle
Theatre out of its pandemic hibernation. Sadly. Jean passed away at the end of 2021 and Gavin was elected artistic director of Thistle Theatre in March of 2022. Gavin has taught and lectured at BIMP, Northern Arizona
University. University of Connecticut, Phoenix Art Museum, and the National Puppetry Festival. He was an Emerging Artist at the National Puppetry Conference and was selected 3 times for the National Puppet Slam.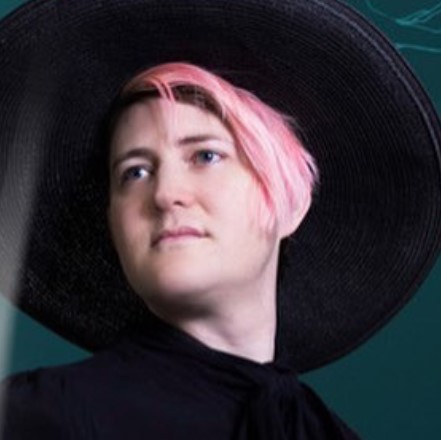 Zane Exactly
Puppeteer
Zane is a Non-binary puppeteer, visual artist, and theatre artist with a BFA in sculpture and printmaking and has been working in puppetry since 2011. They are the co-founder of Shadow Girls Cult whose work was
featured in the National Puppetry Slam in 2019 and 2022. Zane is a co-producer of the Fussy Cloud Puppet Slam, PNW Regional Director for Puppeteers of America, and a board member of Thistle Theatre and has been working for Thistle since 2013 as a puppeteer and repair person.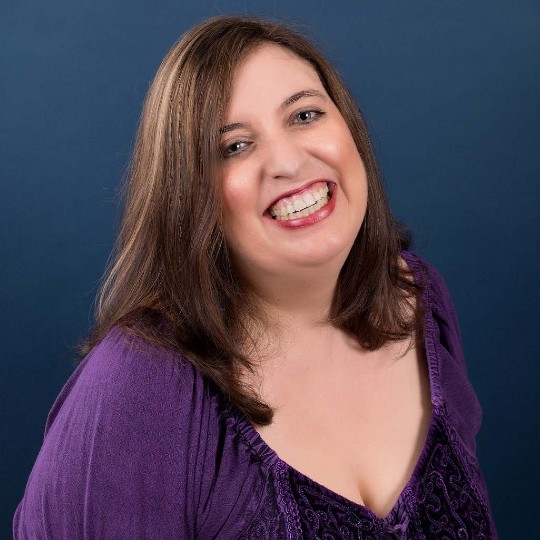 Gina Wilhelm
Puppeteer
Gina (she/her) is thrilled to return to the Center for Puppetry Arts, having played every other tour Thistle Theatre has taken to Atlanta. Gina likes to say she came to puppetry genetically, as her family performed puppet shows in Thailand before she was born. She has performed with Thistle Theatre for 12 years. When not performing with Thistle, she can be found acting on stage herself or performing ventriloquism shows with her own company, Works of Gina's. Gina loves returning to Atlanta and is excited to perform for you.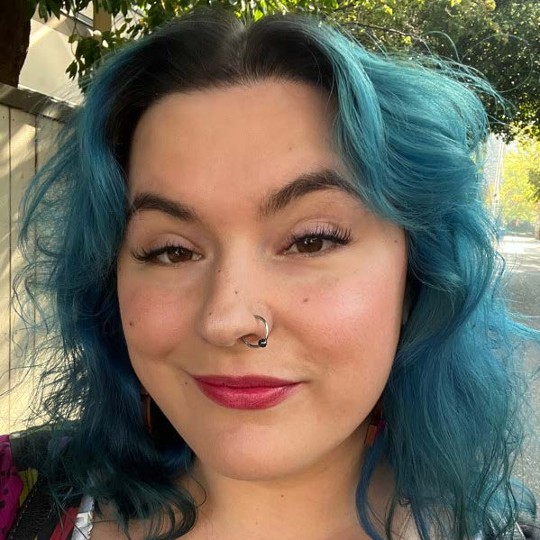 Cass Bray
Puppeteer
Cass (she/they) is a lighting designer, theatre artist and puppeteer based in Seattle, WA. They are a co-founder of the genderqueer performance duo, Shadow Girls Cult, whose work straddles the line between shadow puppetry and handmade animation. Their work has since been featured in the 2019 and 2022 National Slams, the National Puppetry Journal (2019) and The Seattle Times (2022). Their work was showcased in Chinese Theatre Works' 2021 Int'lShadow Slam, as well as the puppetry track at DragonCon in 2022. Recently, they've bolstered their community as the VP of the Seattle Puppetry Guild, co-producer of Fussy Cloud Puppet Slam, and with educational outreach, presenting workshops for local film festivals and theaters. They also served as one of the coordinators of the Puppetry Fringe Program, highlighting emerging puppetry artists at the National Festival. This is their second show with Thistle Theatre, and they are so honored to be performing at the Center for Puppetry Arts this year!
Tickets Include Create-A-Puppet Workshop™
Cheerful Chicken Rod Puppet
Your All-Inclusive Performance ticket includes the show, admission to the Worlds of Puppetry Museum, and a Create-A-Puppet™ Workshop. The puppet is based on the style of puppetry or character used in the production.
Visitors can create a Cheerful Chicken Rod Puppet, inspired by the character from Brother Coyote, Sister Fox.
---
Are you booking for a group?
While we recommend that you call our Ticker Sales Office (404-873-3391) for the quickest group booking, you can begin the process by clicking the button below. Our Ticket Sates office is open Tues-Sun.
RELATED RESOURCES:
Brother Coyote, Sister Fox Educator Resource Guide