Museum Membership
Learn how you can support the arts through an annual Museum Membership!
M is for Membership
Memberships support the Center's annual operations and provide great access to our museum exhibitions as well as special activities ranging from lectures to films to receptions and dress rehearsals. The Center presents 3-4 special exhibitions annually, so you'll want to keep coming back! Sign up now to start your benefits.
Your annual membership to the Worlds of Puppetry Museum plays a vital role in our ability to fulfill our mission. From field trips to family productions, artist residencies to museum exhibitions, funding and engagement from Members helps the Center keep the art of puppetry alive and thriving.
With unlimited access to the Museum, your membership enables you to access all of the culture, history, and art that our special exhibitions spotlight throughout the year, including our annual Puppetry NOW exhibition series, where artists in residence take over the gallery with creative contemporary installations.
Know that you are part of an incredible community of people who are ensuring the future of the Center for generations to come by becoming a Member.
SUPPORT THE ARTS
SUPPORT YOUR COMMUNITY
SUPPORT THE CENTER
Have questions? Contact Membership at 404-881-5151 or call our Ticket Sales Office at 404-873-3391.
Membership Perks
FREE Worlds of Puppetry Museum access

Unlimited FREE admission to the Worlds of Puppetry Museum which includes the following galleries:
Jim Henson Collection
Global Collection
Special Museum Exhibitions
FREE Special Exhibition Previews

Enjoy unlimited access to Special Exhibitions and stay in the loop about preview events and opening receptions!
Festive Features (November 7 – December 31, 2023)
Puppetry NOW! featuring Nehprii Amenii (January 18-April 28, 2024)
Down In Fraggle Rock (May 14-November 3, 2024)
FREE Selected Mainstage Production Previews

Upcoming Member-Only Dress Rehearsals – $200 value!
FREE Online Puppet Playdates

Online Puppet Playdate – $90 Value!

Free access the 3rd Saturday of each month (September-May)
DISCOUNT on Film Series & Lecture Event Tickets

Films and Conversation Series tickets include a special Create-A-Puppet-Workshop™ To-Go-Kit (based on a character from the film being shown) and admission to our Worlds of Puppetry Museum.
DISCOUNT on Puppet Summer Camp
DISCOUNT for Monster Mash

Members Save $5!
Member Price: $20.00
Non-Member Price: $25.00

Put on your silliest, scariest costumes to celebrate our 4th annual 2023 Monster Mash! It's a puppetry smash!

The Center's Love Family Atrium is transformed into a Halloween dance party complete with trick-or-treating in the Worlds of Puppetry Museum and other fun Halloween-themed activities throughout the Center.
And much more…
$100 off rental fees for Birthday Parties
10% discount on all Gift Shop purchases
Handling fee waived for online ticket purchases
All memberships are fully tax-deductible
Opportunity to double your contribution with a corporate matching gift
Additional benefits available for higher membership levels
Membership Levels
| | | | | | | | |
| --- | --- | --- | --- | --- | --- | --- | --- |
| | INDIVIDUAL $55 | DUAL $75 | FAMILY $110 | PUPPET PRIME $175 | SUSTAINER $300 | BENEFACTOR $500 | IMPRESARIO $1,000 |
| Unlimited FREE admission to the Worlds of Puppetry Museum | 1 | 2 | 5 | 7 | 9 | 9 | 9 |
| Invitation to special Member Only events | ✔︎ | ✔︎ | ✔︎ | ✔︎ | ✔︎ | ✔︎ | ✔︎ |
| Discounts on Programs | ✔︎ | ✔︎ | ✔︎ | ✔︎ | ✔︎ | ✔︎ | ✔︎ |
| 10% off at the Museum Gift Shop | ✔︎ | ✔︎ | ✔︎ | ✔︎ | ✔︎ | ✔︎ | ✔︎ |
| Acknowledgment in the Annual Report | | | | ✔︎ | ✔︎ | ✔︎ | ✔︎ |
| Acknowledgment in annual Contributor's List displayed in the Center lobby | | | | | ✔︎ | ✔︎ | ✔︎ |
| Free subscription to Puppetry International magazine | | | | | | | ✔︎ |
| Executive Tour of the Center with Executive Director, Beth Schiavo | | | | | | | ✔︎ |
| 1 free Family level Gift Membership | | | | | | | ✔︎ |
Upcoming Member Discounted Events
Special Events:
Sesame Street Panel with Martin P. Robinson, Pam Arciero, and Annie Evans
August 19th, 2023
Special Events:
Sesame Street Panel with Martin P. Robinson, Pam Arciero, and Annie Evans
Join us for a special panel discussion with Pam Arciero, Annie Evans, and Martin P. Robinson as they discuss their car…
Digital Learning:
Online Puppet Playdate
3rd Saturday of Each Month
Digital Learning:
Online Puppet Playdate
PRESENTED FOR INDIVIDUALS AND FAMILIES VIA ZOOM Zoom in to the Center on the third Saturday of each month for an all-n…
Digital Learning:
Author Talk with Paulette Richards
August 31
Digital Learning:
Author Talk with Paulette Richards
Learn about African American object performance  Join us for a discussion with Paulette Richards on her new book whic…
Special Events:
Puppets and Pints (18+)
December 7
Special Events:
Puppets and Pints (18+)
Join us for our new evening series for adults, Puppets and Pints! Cash bar and light bites provided. Ages 18+ Check ba… Includes: Admission to Worlds of Puppetry Museum and Free Parking
Click here to check out past events for Members!
All Memberships at the Center for Puppetry Arts are valid for one year from the month of purchase. For groups of ten (10) or more, group rates apply. Center for Puppetry Arts is a nonprofit 501(c)(3) organization and as such a portion of your Membership contribution may be tax-deductible to the full extent of the law. Any tax deduction is limited to the excess of the contribution over the fair market value of any items received in exchange for the donation. All benefits are subject to change. All events are subject to availability.
*A Center event includes activities such as performances, movie screenings, workshops, Museum admission and tours, and special programming. The number of Member tickets you can access to each instance of each individual event (whether free or discounted) is limited based on the level of Membership.
Hear From Our Visitors!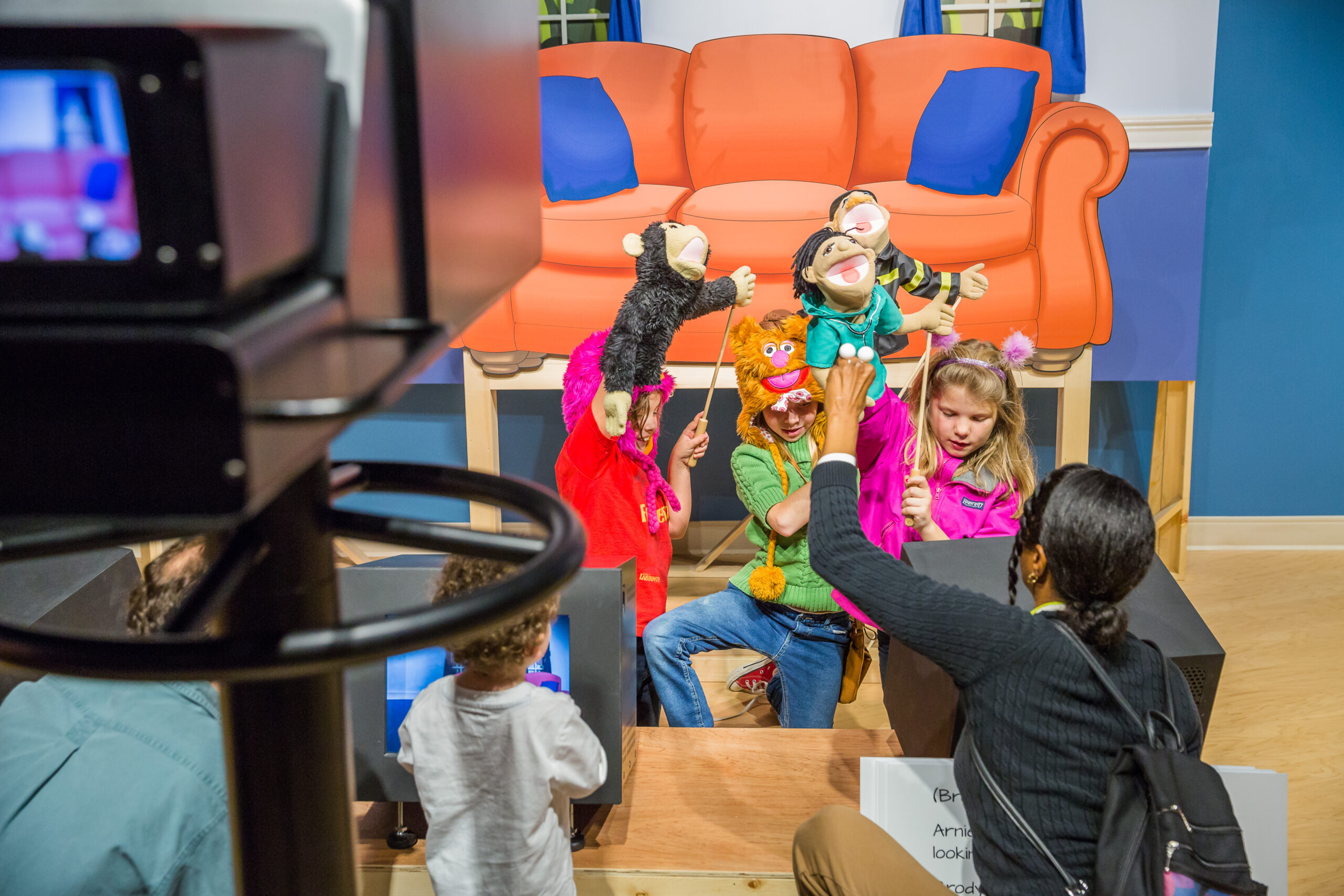 Testimonial
The Jim Henson Exhibit was just incredible. I got way more emotional than I expected. Seeing these characters in person was like visiting old childhood friends. There are fond memories stitched inside that felt and fur! Puppetry is magical and the Center for Puppetry Art puts that magic right in front of your face!"
Visitor to the Worlds of Puppetry Museum
Testimonial
I'm 71 years old and my whole life I've loved puppets. I was very excited when I retired here to learn that the Center for Puppetry Arts is just an hour drive away. I've enjoyed the shows there and enjoyed the museum exhibits. My son took me and his family there for my birthday several years ago before I became a member. My grandchildren, who are in their 20s, were amazed to see your production of Rudolph. It's like a Broadway show!
Christine Holland, Guest